Over the years many of our volunteers have won awards for their contribution. In 2014 Trinity was awarded the 'Outstanding Organisation' trophy at the Teesside University volunteer awards.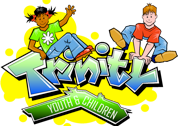 Opportunities to help and develop
Want to make a real difference to children and young people growing up in challenging circumstances? Volunteers allow us to do so much more with the limited resources we have available. Wanting to gain valuable experience of working with children and young people to get into teaching, child care or social work? Dozens of our volunteers have found that volunteering with us has been invaluable for job or course applications.
How to volunteer
Please contact a member of staff or complete the form below, if you would like to volunteer.
The safety of children and young people is really important us. To volunteer with us you will need two references to vouch for your suitability to work with children and will need to undertake an enhanced DBS check.