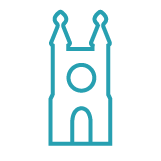 What is the PCC?
The role of the PCC is 'co-operation with the minister in promoting in the parish the whole mission of the Church, pastoral, evangelistic, social and ecumenical'.

North Ormesby PCC is a registered charity number 1164224
Trinity Centre (North Ormesby) is a Community Interest Company (CIC) number 10157071. The directors of the CIC are the Vicar and Churchwardens and those appointed by them in consultation with the PCC. Mrs Heather Black (until May 2020) and Mrs Marion Cook.

Membership
PCC members are either ex officio or elected by the Annual Parochial Church Meeting (APCM) according to the Church Representation Rules (CRR 2020) the size of the electoral roll means that there are six elected members.


Ex officio
Incumbent Revd Bridget Woodall
Church Warden - Mrs Lee-Anne Rose. - (elected APCM 2017)
Church Warden - Samuel Dagogo-Wariso (elected APCM 2023)
PCC Secretary - Ibiwari Dagogo-wariso
Member of General Synod -
Middlesbrough Deanery Synod Representative - Victor Alleh
Elected Members (6)
Sarah Collyer

Mrs Jane Holliday - Until APCM 2025
Mrs Marion Cook - (Treasurer) - Until APCM 2024
Miss Tracy Thompson - Until APCM 2024
Mr Roland Major - Until APCM 2025 - Lay Chair
Mrs Julie Major - Until APCM 2025 Parish Safeguarding Officer