The Trinity Centre is available to hire all week except Sunday morning. The centre is used by a wide variety of groups and agencies for meetings and conferences, including the NHS, Social Services, Training Agencies, Voluntary and Community groups.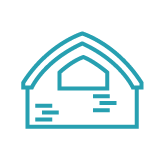 Customers are impressed by the quality and design of the building, which provides a comfortable and pleasant space for any event. The Cloister Garden adds a unique dimension to the Trinity Centre and is greatly admired.
The Trinity Centre is equipped with sound and projection system, including a loop in the Hall, and Wi-Fi throughout. The centre offers a good level of accessabilty for wheel chair users.
Ample free public parking is available on the Market place except on Tuesday, market day. A car park is available to the rear of the centre on Tuesdays.
We are a popular venue for special events and family celebrations. The centre is licensed for entertainment but not the sale of alcohol.
The Centre is closed from Maundy Thursday to Easter Monday and from Christmas Eve till the first week of January.