Godly Play is a creative, imaginative and multi-sensory approach to Christian nurture, which forms the core of our work with children. Godly Play values openness and discovery, encouraging people to find meaning for themselves.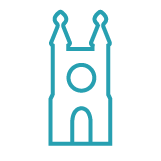 To find out more about Godly Play in the UK...


www.godlyplay.uk
Related Sites
Related sites on youth and children's work we recommend are:
The Church of England's youth and children's site
The Catechesis of the Good Shepherd
A related method to Godly Play which we draw on to enrich the Liturgical element of our Godly Play materials
Prayer Spaces in Schools
A great resource to work with local schools giving children tools to pray.
Open the Book
A way of sharing stories from the Bible with children in Primary School.
Godly Play at Holy Trinity
The Godly Play room at Holy Trinity was created in 2006. Children aged 4+ meet in the room every Sunday morning during our parish Eucharist.
Godly Play Books

Jerome Berryman's introduction to the teaching of Godly play and the Godly Play presentation scripts (Books 2,3,4,6). We also highly recommend Rebecca Nye's book Children's Spirituality which looks at how we can nurture children in their spiritual awareness.