From the beginning of North Ormesby the church has been at the heart of the community. Holy Trinity Church was planted in Smeaton Street school on Advent Sunday 1858, for over 150 years a continuous cycle of prayer and worship has been heard in North Ormesby. New Christians have been baptised, children and adults nurtured in the faith of Christ, new families have been forged in marriage and the passing of the faithful in the hope of the resurrection to eternal life has been marked. Through two world wars, through boom and bust, the 1930's and 1980's depressions, fire and flood, demolition and rebuilding, the church has stood as a beacon of hope.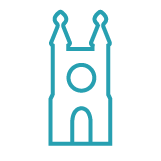 Family History

Many people visiting Holy Trinity have a personal or family link with the church, through baptisms, weddings and funerals. Church registers can provide a rich source of information about family history. Only the current church registers are held at the church, all previous registers and a range of historical documents related to Holy Trinity are held at Teesside Archives.
Contact: Teesside Archives, Exchange House, Exchange Square, Middlesbrough, TS1 1DB
Tel: 01642 248321 | teesside_archives@middlesbrough.gov.uk

History Links
From Generation to Generation

Usually, churches celebrate the anniversaries of the bricks and mortar. But at Holy Trinity we wanted to celebrate the 'living stones,' the community of faith who over 150 years have found meaning, purpose and peace in worship. The thousands who have 'touched eternity', celebrated new life and marriage and mourned loved ones, surrounded by faithful love, prayer and practical support.
For twelve months, beginning on Advent Sunday 2008, the 150th anniversary of the first service in Smeaton Street School, the Church joined with the local community to celebrate Church and community life in many and varied ways. The 150 Years in North Ormesby project, brought together 28 groups and organisations and hundreds of local people of all ages to learn about their heritage and celebrate their community.
During the celebrations many people shared photographs, papers and memories with us. Some of this history has been captured in the leaflet: "A History of North Ormesby Parish Church." which is available in the leaflet rack outside the Trinity Centre office.